PACE strengthens call for discernment amid proliferation of election-related disinformation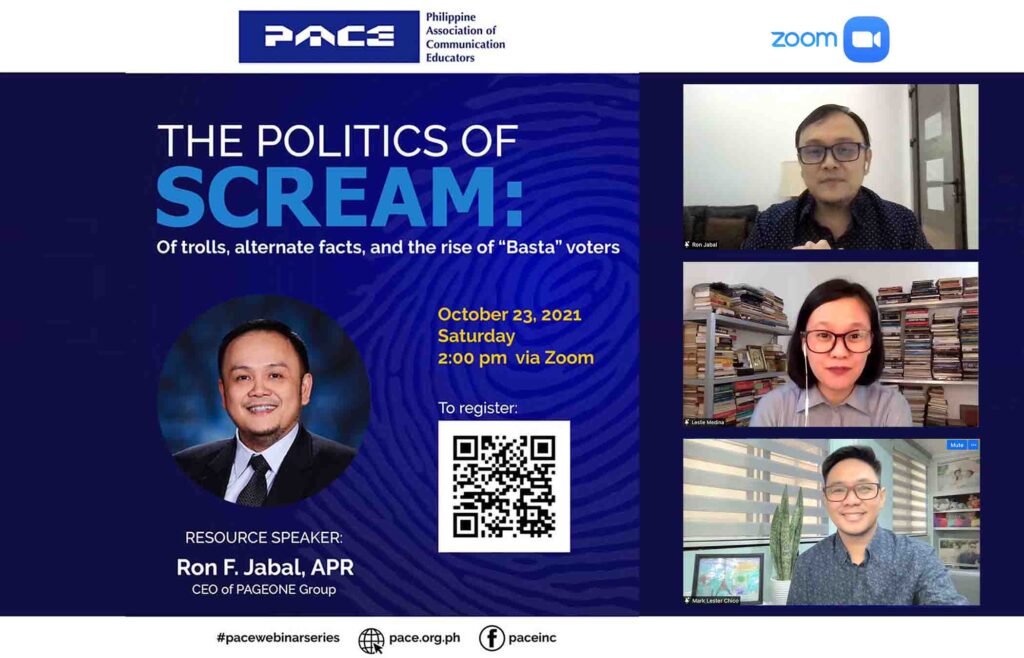 The Philippine Association of Communication Educators (PACE) strengthened its call for discernment on information sharing on digital media as the 2022 elections approaches.
Mr. Ron Jabal, the CEO of Page One, served as the resource speaker of the webinar titled The Politics of Scream: Of trolls, alternate facts, and the rise of "basta" voters. Jabal discussed the value of authenticity and empathy in the political arena, pitfalls of trolls and heated exchanges, the challenges and opportunities of the presidential elections, campaigning for which concentrates on social media, and the rise of "basta" voters.
The Vice Presidents for Mindanao, Visayas, and Luzon shared their insights after the talk and provided the current situations of the local political landscape and how will this greatly affect the 2022 national and local elections.
Jabal also challenged PACE to lead the communication educators and students in guiding the public to make informed decisions.
The oath-taking ceremony of the newly-elected Board of Trustees (BOT) formed part of the event, which also served as a kick-off celebration of PACE's 46th anniversary.
Founded in October 1975, PACE is the pioneer, biggest, and most dynamic professional organization of communication and media educators practitioners in the country.