#CMSC2018: Paper Presentations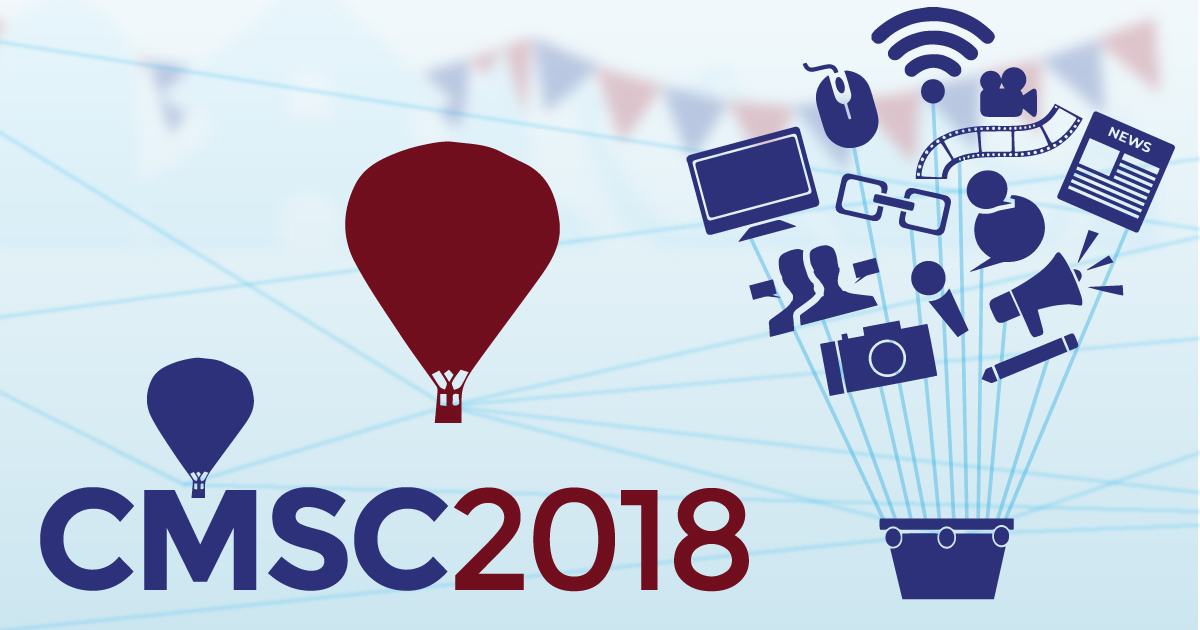 On May 10-11, student and faculty scholars of communication, media, and journalism will come together at Holy Angel University, Angeles City, Pampanga for the 2018 Communication & Media Studies Conference.
CMSC is PACE's annual academic conference. This year, the theme is "Sharpening Media & Communication Competencies in a Post-Truth World."
Listed below are the paper presentations during the conference. You can find the program, CHED endorsement, and other resources at the CMSC2018 conference page.
---
Day 1
Parallel Session 1
May 10, 2018, 4:00 – 5:00 PM
Theme: Media, Information, & Digital Literacy
Moderator: Dr. Jose Alagaran, Jr., Polytechnic University of the Philippines
Venue: Room 1
Mediamorphosis and Online Political Discourse through the Lens of Media and Information Literacy (MIL) Experts
Janet Tibaldo, Marc Lhester Sadural, Nero Peña, Michaela Cabero, Damsel Barandino, Aly Canstañeto, Clichy Laigo, Joshua Lennon Flores & Jekamiah Padama, Saint Louis University
MILenyal: An Audiovisual Presentation for High School Students on Media and Information Literacy and Selecting Credible Online News
Renee Danielle M. Aguilar, Jemimah Elyza R. Joyel, Joreen Dianne G. Loreto & Kurtney Leigh Y. Reyes, Miriam College
Tech-a Muna, Teacher: Batasan Hills National High School Teachers' Skills in Evaluating News Articles on Facebook vis-à-vis Their Digital Literacy Confidence
Camille Veronica C. Aquino, Arealle O. dela Cruz, & Ma. Carmela Nastasha H. Tioseco, Miriam College
Tinimbang Ka, Sapat Ka Ba?: An Assessment of Digital Literacy among College Students
Alicia Basibas-Pinlac, University of Perpetual Help System
Parallel Session 2
May 10, 2018, 4:00 – 5:00 PM
Theme: Online Identities
Moderator: Reginald Gonzales, Lyceum of the Philippines-Cavite
Venue: Room 2
The Coming Out of Identity 2.0: Identity Work in Reality TV and the Social Media
Mark Lester Chico, University of the Philippines Diliman & Los Baños
A Study on the Interaction Effect Between Youtube Beauty Vlogger Michelle Dy and Her Audience
Khristin Allison S. Almario, Maria Francesca Catherine R. Meneses, Aundrei Gabriel G. Vallar, University of Santo Tomas
Girls Got Game: The Narratives of Selected Female Gamers and their Identities in Twitch.tv
Paulyn Ides Bando, Kyslev Guielle D. Bustamante, Mary Rose P. Dabasol, Athena Erika A.Tecson, Far Eastern University, Manila
Cultural Hybridity and Youtube: Analyzing Interactions and Cross-Sections Of Make-Up Trends
Melissa Mae F. Jusayan, Ara May Rose C. Tanagon, Dr. Gwenetha Y. Pusta, University of Santo Tomas
Parallel Session 3
May 10, 2018, 4:00 – 5:00 PM
Theme: Online Engagement & Communication and Media Education
Moderator: Dr. Joseph Elvir Tubilan, Cebu Normal University
Venue: Room 3
UCU Students' Internet Dependency and Assessment of Online Sources
Eros Juno Zamora, Rample Franschezka E. Apelado,  Judy Ann D. Cayabyab, Giselle L. Lomibao, Noel Razo, Urdaneta City University
Attitude of CSU Students towards Online-Integrated Teaching in Literature Using Schoology
Adem Nalu V. Rubio, Catanduanes State University
Knowledge, Attitudes, and Practices of Youth Digital Activists Toward Evaluating Information Online
Alyza Leah Santos, University of the Philippines Los Baños
News Appetite: Online and Traditional News Consumption of AB Broadcast Journalism Students in De La Salle University – Dasmariñas
Elvi Correos, Rafael Labayo, Mary Katherine DP. Sevilla, De La Salle University-Dasmariñas
Adoption of New Media Technologies: A Multigenerational Comparison
Christian Briones, Alvin Cabanday, Fe Monique Musni–Tagaytay, University of the Immaculate Conception
Parallel Session 4
May 10, 2018, 4:00 – 5:00 PM
Theme: Understanding and Opposing Fake News and Propaganda
Moderator: Dr. Gwenetha Pusta, University of Santo Tomas
Room 4
A Proposed Crisis Management Response Framework to Fake News
Dr. Severino R. Sarmenta Jr., Ateneo de Manila University
Digging Beneath: The News Framing of Online News Portals on Marcos' Burial
Maricar S. Dimla, Jann Ericko N. Medina, Ma. Thea L. Panganiban,  Annabell G. Pascual
Level of Knowledge and Level of Engagement of Selected Filipino Netizens on Political Fake News on Facebook
Ana May Pantoja, Elyn Pelegrino, Mary Joy Encina, Sarah Grace Gino, Dr. Richardson dR Mojica, College of Divine Wisdom-Paranaque City
From the Illustrados to the 'Biased Media': A Comparative and Historical Analysis on Philippine Political Counterpropaganda
Anjon Fredrick C. Mamunta, Saint Paul Seminary Foundation
---
Parallel Session 5
May 10, 2018, 5:00 – 6:00 PM
Theme: Advocacy Campaigns & News Frames of Peace Issues
Moderator: Dr. Maria Theresa Rivera, Xavier University – Ateneo de Cagayan
Venue: Room 1
Trends and Challenges in the Bio-Fertilizer and Bio-Pesticide Promotion in Bukidnon
Ele D. Lunzaga & Julienne A. Suarez, Central Mindanao University
Documentary Truths in Fictional Film: The Works of Mike De Leon and Lav Diaz as Forms of Political Communication and Advocacy
Roberto Reyes Ang
Project Greenlight: Printed Materials and Online Resources Intended to Increase Mental Health AwarenessJean Robbie N. Pagtalunan, Tricia Marie L. Cubillas, Jeimi Belleen P. Aesquivel, Evelyn S. Cruz, Ma. Dayanara L. Andus, Bulacan State University
I am Mindanao: A Social Media Campaign in Countering Violent Extremism in Cagayan de Oro City, Mindanao
Evans Rosauro I. Yonson, Xavier University-Ateneo de Cagayan
Comparative News Framing Analysis of Philippine Daily Inquirer's and Mindanao Times' Reports on the Marawi Siege
Gillyn Mae Diaz, University of the Philippine Los Baños
Bantay-Salakay: Portrayal of PNP in Drug-Related News Reports on Selected Online News Sites and Its Implication on Their Public Image
Angelica G. Calampiano, Southern Luzon State University
Parallel Session 6
May 10, 2018, 5:00 – 6:00 PM
Theme: Persuasion, Business & Online Communication
Moderator: Julius Neil Piala, University of the Philippines Mindanao
Venue: Room 2
Addressing the Ethical Lag in Online Group-Buying
Jinger Erika S. Cabillen & Dr. Gwenetha Y. Pusta, University of Santo Tomas
PM SENT: Content Analysis on the Patterns of Communication of Online Buyers and Sellers in the Facebook Group Hachi's Buy and Sell through Facebook Messenger
Jonas Ian G. Igoy, Emmarie Danielle H. Betia,  Philippe Rodd P. Esber, & Reopaolo N. Nunez, Far Eastern University Manila
Role of Facebook Group Pages towards Member's Self-Identity and Self-Esteem
Bert Dominic Quito
Emojis and Its Effects and Influences on the Interpersonal Communication Process
Sean Celones, Raphael  Rosadia, & Melvin Espineda, College of Saint Benilde
Spotify: The Sounds of Music Producers and its Effects
Ella Rose Malibiran & Jose Gabriel Alonzo, College of Saint Benilde
---
Day 2
Parallel Session 7
May 11, 2018, 9:00 – 10:00 PM
Theme: Political Discourse and the Online Public Sphere
Moderator: Prof. Marco M. Polo, De La Salle University – Dasmariñas
Venue: Room 1
Divided Along Party Lines: Polarized Reactions Online to a Student Publication's Article on Press Freedom after the Rappler-SEC Issue
Hanna Joyce B. Macawili, Jamie Faith E. De Veyra, & Jed Cortes, Visayas State University
Rising Social Media Trends and Its Effects on the Opinions and Beliefs on Current Social and Political Issues of Specialized High School Students
Radel James E. Gacumo, Philippine Science High School – Main Campus
Positive Intention in Controversial Communication
Jennifer C. Bermudez, Foundation for Professional Training and Philippine Science High School
Parallel Session 8
May 11, 2018, 9:00 – 10:00 PM
Theme: Policy & Pragmatic Implications of Cyber Issues
Moderator: Dr. Bettina Joyce P. Ilagan, Cavite State University
Venue: Room 2
The Case of Pastor Hokage Bible Study Facebook Groups, Its Contribution to Cybercrime, and the Call for Effective Implementation of Anti-Cybercrime Laws in the Philippines
Mary Rose Angel C. Balasa, Mary Kathryn D. Gorgonia, et al, Polytechnic University of the Philippines
RA 10175: Implications of Online Libel in Media Practitioners' Expression of Canons of Journalism
Rayn Keneth S. Ampon, Laguna State Polytechnic University-Sta. Cruz Campus
Unpacking the Paradoxes of Privacy Management on Facebook and Twitter: A Study on Senior High School Students
Ma. Niña H. Balce, Jasmin D.  Culianan, & Dr. Gwenetha Y. Pusta, University of Santo Tomas
The Lens: Viewing the Copyrights of the Photographers
Louise Danielle Calsado, Andrew Ervin Lizaso, & Melvin N. Espineda, College of Saint Benilde