#MBSemmersion: Manila Bulletin & PACE Teachers' Training Program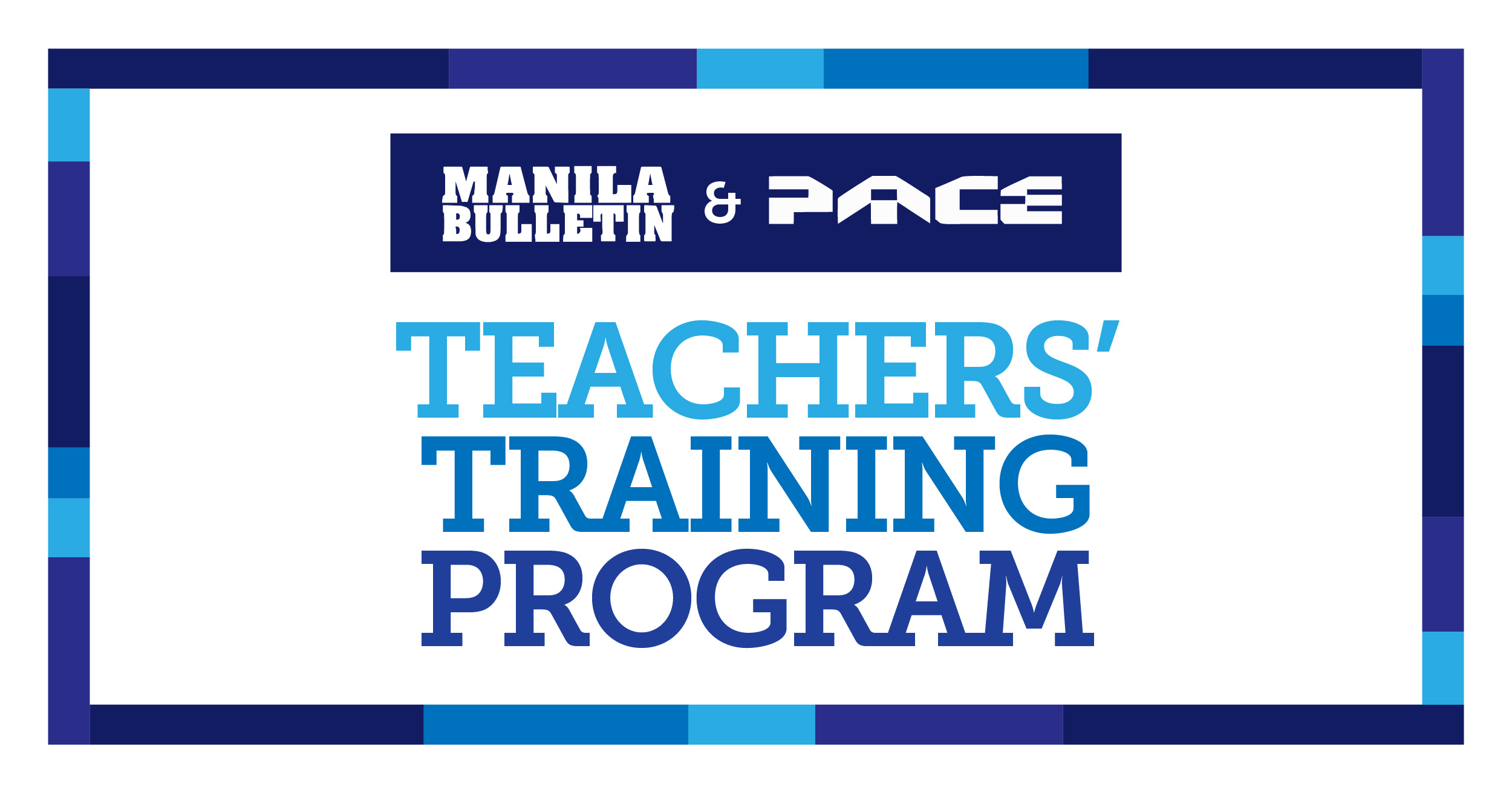 In partnership with Manila Bulletin Publishing Corporation, PACE is pleased to invite your institution to nominate participants to a free training program for your communication and journalism teachers.
This Seminar-Immersion type program aims to provide teachers the latest skills in relation to journalism and the various aspects of publications production and management. The program is comprised of a lecture from in-house resource persons of Manila Bulletin, a tour of their editorial, business and printing offices and facilities and a half day immersion program in a chosen area by the participant.
You will find the program of activities below. If you are interested to participate in this program, please reserve your slot/s on or before January 19, 2015 by registering below.
A maximum of two slots can be allotted per institution subject to the following criteria:
Sending school must be a PACE institutional member
Participants must be full-time faculty members and must be a PACE member for the current school year
Travel and accommodation shall be on the account of the participant or his/her institution.
Note: New or renewal of membership dues can be settled on or before the program.
As sponsor, Manila Bulletin will take care of lunch and snacks for the whole duration of the training.
Slots are limited to the first 45 confirmed participants.
PACE will contact and confirm with you if your institution's participant/s have been accepted to the training program. Official receipt (for renewing or new members) and certificate of membership shall also be given during the program. We look forward to your participation.
CHED endorsement will follow.
---
Program of Activities
1ST DAY
08:00 – 08:30 Registration
08:30 – 09:15 Opening Program
Invocation – c/o Manila Bulletin
National Anthem
Welcome Remarks
– Mr. Marco M. Polo, PACE President
– Atty. Hermogenes Pobre – Publisher, Manila Bulletin
Introduction of Keynote Speaker – Mr. Barbie Atienza – Head of External Affairs, Manila Bulletin
Keynote Speech – Ms. Pinky Colminares, Executive Editor
09:15 – 10:15 Manila Bulletin Background (Brand) – Marge Laogan, Brand Manager
Data (survey)
MB values and image
Parts/Sections of MB (what we made of)
10:15 – 10:30 Open Forum
10:30 – 11:30 Editorial – from Live to Print – Mr. Nate Barreto, Desk Editor
News & Editorial Writing
Photo/cartooning/graphics
Circulation/distribution
11:30 – 11:45 Open Forum
11:45 – 01:00 Lunch Break
01:00 – 02:00 Transition to Digital Journalism – Mr. Art Samaniego, Technews Editor
02:00 – 02:15 Open Forum
02:15 – 03:30 Journalism Ethics – Ms. Fil Sionil, Managing Editor
03:30 – 03:45 Open Forum
Master of Ceremonies:
Prof. Joeven Castro (FEU-PACE)
2ND DAY
MORNING SESSION
8:30 am – Registration
9:00 am – Tour of Manila Bulletin Offices and Facilities
Circulation
Editorial
Graphics/Design
Plant (newspaper printer)
Plant (magazine printer)
Dispatching
11:45 – 1:00 pm – Lunch
AFTERNOON SESSION
Immersion – attendees can choose which Department they want to join
Editorial
Graphics/Design
Circulation/Distribution
4:00 pm – Closing Program
Awarding of Certificates of Participation
Closing Message – Manila Bulletin representative
Master of Ceremonies:
Dr. Rowena Capulong-Reyes (FEU-PACE)